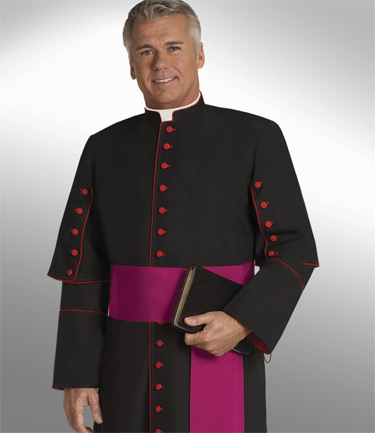 CASSOCK H-197 (Black with Scarlet)(with free shipping)
390.90 351.95 On Sale!
MR: CH197

This cassock has been a popular traditional style for centuries. Ready to ship the next business day following our receipt of your order, and backed by the Murphy Qwick-Ship Guarantee of Satisfaction. Tailored in black Viva and enhanced with scarlet piping and buttons.

Convenience and tailoring features include:
Button front closure
Longer length with approximate 2" floor clearance
Inverted pleats in side and center back seams
Lining to waist with scarlet Imperial Satin
Inner vest pocket
Right and left full pockets plus pocket slits
Includes removable tab collar, or may be worn with banded collar shirt or rabat.
Stocked to fit most men. To find your size, please consult the Murphy H Size Chart

This cassock is also available custom fitted in the above fabrics. Custom fitting requires six to eight weeks and is priced starting at $590.95 (list: $637)(MR260M). For more information, please contact us via our toll free number at 877-432-6745.

The H-197 is shown here with Band Cincture H-195, sold separately. The Shoulder Cape H-48 completes the House Cassock ensemble. You may also use the Band Cincture H-201 with this Cassock.

Care and measuring instructions for this and other cassocks are found here.

Free shipping offer applies only to orders shipped to destinations within the continental USA.

INTERNATIONAL ORDERS, PLEASE NOTE: There is an additional charge of $15 for each international order processed over and above the actual shipping charges since these robes will have to be shipped to our store before shipping overseas and will not be sent directly from Murphy. Additional items in your order may incur additional charges above the minimum for the additional weight.