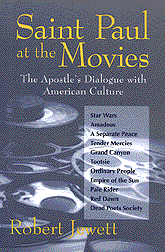 SAINT PAUL AT THE MOVIES by Robert Jewett ($19.95)*
17.95

In this book, the author, Robert Jewett, looks at ten major Hollywood films that focus on themes related to shame and analyzes them - and by extension, today's social consciousness - in light of what the apostle Paul says on the topic. After an illuminating chapter entitled "Pauline Theology Takes in the Movies", which discusses the relation of honor, shame and grace in Paul and in the modern cinema, Jewett explores these themes as they are depicted in the films. Other chapter titles include: Star Wars and the Force of Paul's Gospel; Amadeus: Sin, Salvation and Salieri; A Separate Peace with Adam's Fall; The Mysterious God of Tender Mercies; Righteous Gentiles in Grand Canyon; Tootsie and the Comfort of Christ; Earthen Vessels and Ordinary People; Empire of the Sun and the Death of Innocence; the Disguise of Vengeance in Pale Rider; Works of Darkness in Red Dawn; and "Saint" Paul and the Dead Poet's Society. All of these movies show concern for deep human issues which are also treated in the Bible. The films provide evidence that many of the apostle Paul's themes in the New Testament are relevant for today. Contemporary movies, according to Jewett, influence many Americans more than their formal education or religious training. And, since Paul interpreted the gospel on other people's turf, Jewett believes that today that would involve the movies, a primary source for discovering and debating important moral, cultural and religious issues. Jewett treats film and biblical passages with equal respect. He brings their ideas and metaphors into relationship so that new insights emerge about both the ancient texts and the American cultural situation.

Jewett's engaging dialogue between movies and biblical texts reveals the cinema's unique capacity to uncover one of the deepest and most pervasive dilemmas of the human heart - a dilemma that the gospel message openly and redemptively confronts.

"An original fascinating entry into Pauline theology...This study provides notes from theologians and film critics alike, a combination that makes this work an invaluable resource for teachers, homilists and discussion groups." - Richard A. Blake, S.J., Associate Professor of English, Le Moyne College, Syracuse, N.Y. and film reviewer for America.

The book also includes indices of Scripture, subject and names.

I did receive the following comment from one preacher regarding this:
"I read Jewett's first book and it was great. One congregation I know rented the videos and showed them in folks homes with theological discussion using Jewett's book afterward."
(Submitted by Mike Mansfield [Cumberland County Parish (United Methodist)](Mike may be contacted at revjmike@duo-county.com.)

(Purchase of this title helps you qualify for the free shipping option if it is being offered at the time of your order.)