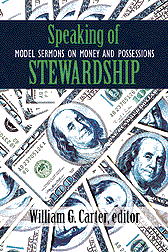 SPEAKING OF STEWARDSHIP edited by William G. Carter ($15.95)*
12.95 10.49 On Sale!

This collection of twenty-three superb model sermons offers a wealth of biblical insight, practical wisdom, illustrations, inspiration, and helpful advice about the crucial themes of stewardship, giving, and the use of money and possessions in the church. Featured are sermons by pastors in churches large and small, as well as by internationally known preaching professors Fred Craddock, Thomas Troeger, and Charles Rice.

Editor William G. Carter introduces the volume with a provocative and practical essay on "What Is a Good Stewardship Sermon?" The sermons, on such topics as "The Top Five Reasons Why I Don't Tithe Yet", "Hilarious Giving", "Grace and Grab", and "Don't Touch the Chicken Until We See If They Are Hungry," are based on both Old and New Testament passages, many drawn from the lectionary.

A bibliography of books and other resources on stewardship, useful to clergy and lay leaders, is included. The preface is by David McCreath, Coordinator of Stewardship Education for the Presbyterian Church (U.S.A.).

"More than just a book of stewardship sermons, Speaking of Stewardship illustrates the full breadth of the stewardship mosaic woven deep within the fabric of the whole church. Taking its keys from the biblical narrative, this book richly and inspirationally establishes that stewardship is dynamically alive in all the congregation's life and work."
-Phil Williams, executive director, Ecumenical Center for Stewardship Studies, Indianapolis.
"This book of sermons will feed you with wonderful theological stimuli that will excite you to discover that stewardship sermons are basic to preaching the good news of Jesus Christ. These sermons are stewardship preaching at its best."
-Robert W Bohl, senior minister, Village Presbyterian Church, Prairie Village, Kansas, and former moderator of the Presbyterian Church (U.S.A.)
WILLIAM G. CARTER is pastor of First Presbyterian Church, Clarks Summit, Pennsylvania, and a professional jazz pianist.

"I picked up a copy of the book "Speaking of Stewardship" and found that it is an excellent collection. I would like to use one of the sermons out of it in particular entitled "The Top Five Reasons I Don't Tithe Yet". We are a small church without a pastor at this time and I am a little short on guidance on this subject of tithing." - Darryl Boyd (Comments and questions can be sent to him at darryl.e.boyd@ecunet.org)

(Purchase of this book helps you qualify for the free shipping option if it is being offered at the time of your order.)