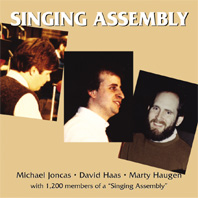 SINGING ASSEMBLY with David Hass, Marty Haugen & Michael Joncas ($16.95)
14.95
GIA: 209

Delight in this thrilling concert featuring David Haas, Marty Haugen, Michael Joncas, Jeanne Cotter, and 1,200 pastoral musicians, recorded live at St. Barbara Church in Brookfield, Illinois, as part of the 1987 Fusion of the Arts Festival sponsored by the Music Staff of the Office of Divine Worship, Archdiocese of Chicago. This classic recording gives witness to the power of fine acoustics, superb leadership, and a singing assembly!

CONTENTS:
Alleluia Sing! (G-3583)
Creator of the Stars of Night (G-3566)
Awake Awake (G-2654)
Of the Fathers Love Begotten
Song of the Stable (G-2888)
Glory to God
Awake O Sleeper (G-3290)
No Greater Love (G-3140)
Jesus Walked This Lonesome Valley
Easter Alleluia (G-3594)
Song Over the Waters (G-3096)
You are the Presence (G-3506).
Available as a compact disc or cassette ($9.95 $10.95). Please indicate your preference when ordering. If ordering the cassette, the price will be adjusted upon receipt of your order but will not be shown on your program-generated receipt.