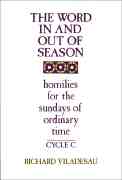 WORD IN AND OUT OF SEASON by Richard Viladesau ($9.95)
8.95

A collection of useful and challenging homilies for the Sundays of each year of the liturgical cycle with frequent references to literature, history, stories from other religions and personal anecdotes. By Richard Viladesau.

Available for each year of the liturgical cycle, as well as for Advent and Lent. Order each of the four books separately or as a set. Please indicate your preference when ordering. If necessary, the price will be adjusted upon receipt of your order, but will not be reflected on your program-generated receipt.
Year A: $8.95 (list: $9.95)(#3367-9)
Year B: $6.95 (list: $7.95)(#3158-7)
Year C: $6.95 (list: $7.95)(#3224-9)
Advent & Lent: $8.95 (list: $9.95)(#3626-0)
All four volumes: $30.95 (list: $35.80)