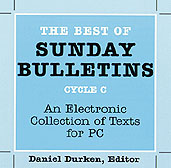 BEST OF SUNDAY BULLETINS ($20)
17.95
LP: 0-8146

Add meaningful commentary to your parish's bulletins! The best of Bible and Liturgy Sunday Bulletins' textual commentary on the Scriptures for each Sunday of Cycles A, B and/or C is available in an easy to use electronic collection!

Each commentary offers a religious reflection, a challenging commentary, an inspirational insight—appropriate for adults and families—on each Sunday's Scripture readings, so you can promote within your parish a better understanding of and appreciation for the Good News.

Written by priests and lay people with keen insight into how the Scriptures relate to everyday life, the commentaries in The Best of Sunday Bulletins offer messages your parishioners will want to take home with them, to talk about, to ponder, to reflect upon all week long. These messages help you build upon the Sunday readings, thus bridging everyday and Sunday worship.

Text is taken from past Bible and Liturgy Sunday Bulletins published by The Liturgical Press.

Each bulletin is individually saved in both ASCII and Rich Text Format (RTF). Create your own Sunday bulletin by simply opening the desired file into any word processing or page layout program that supports ASCII or RTF files. In addition to the bulletin text, the readings for each Sunday are listed. Suggestions for clip art images from the CD-ROMs Clip Art, More, and Even More Clip Art for the Liturgical Year and Clip Art for Feasts and Seasons, Celebrations and Service, are offered where applicable.

Available individually for $17.95 ($19.95), or as a set for $49.95 ($59.85). Please specify your choice when ordering.