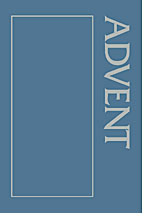 SOURCEBOOKS FOR ADVENT AND CHRISTMAS +
36.95

This classic sourcebook contains a rich assembly of texts, including scripture, poetry, hymns, homilies, letters, fiction, folklore and liturgy. Musicians and homilists will find a rich resource for their ministry. Others will find a prayer book to use through all the days of Advent, one that provides wisdom and inspiration for reflection and meditation. Along with A Christmas Sourcebook, this book makes a great gift for any individual or family.

Some chapter titles include:
The Approach of Advent;
November 29: Dorothy Day;
The First Week: Watch!;
Soon and Very Soon;
The Day of the Lord;
The Second Week: The Welcome Table;
December 8: Immaculate Conception;
Plowshares;
Wealth of the Poor;
Chanukah;
John the Baptist;
By Justice and By Mercy;
Las Posadas;
The Ember Days; and,
The "O" Antiphons.

The Christmas Sourcebook includes similar materials for each of the feast of the Christmas season up to and including the Baptism of the Lord.

Available in paperback volumes or spiral hardcover bound which is printed on fine paper and specially bound to open fully for easy reading and display with slipcase. Prices are as follows:
Advent (paperback): $18 (#82-5)
Christmas (paperback): $18 (#08-6)
Both volumes (paperback): $36
Both volumes hardcover in slipcase: $46.95 (list: $50) Please indicate your preference when ordering. If ordering the set, the price will be adjusted upon receipt of your order but will not be shown on your program-generated receipt.

This item does not qualify for free shipping. However, normal shipping applies and there is never a surcharge.