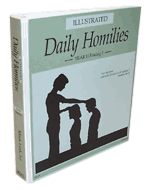 ILLUSTRATED DAILY HOMILIES by Mark Link, S.J. +
49.95

Includes short homilies on either the first reading or the gospel. Buy the complete set and have something to say about both passages of Scripture! Includes relevant stories for which Mark Link is noted. An excellent resource for those who preach on a daily basis. And you won't get better prices anywhere, guaranteed!!

There are four ordering options available:
Year I, Reading 1: $49.95
Years I and II Gospels: $49.95
Both Binders: $99.90
This item does not qualify for free shipping. However, normal shipping applies and there are never any surcharges.