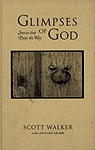 GLIMPSES OF GOD (Stories That Point the Way) by Scott Walker ($13)
10.95
AUG: 0-8066-3332-8

"God often reveals himself to us in sudden, fleeting, and unexpected glimpses. This book is a collage of such glimpses, a collection of stories that have revealed to me the nature of God and secrets of life. I share these glimpses with you with the prayer that they will spark your own memory and you will see how God has revealed his way to you." - Scott Walker.

"Scott Walker is a gifted writer who tells an enthralling story. But more than that, this collection of stories penetrates the surface of ordinary events and offers us wise insights about life and memorable glimpses of divine presence. I dare say that Scott Walker will become a companion to you as you read,'and you will enjoy his company immensely." - Sue Monk Kidd, author of When the Heart Waits and The Dance of the Dissident Daughter.

"When Scott Walker starts a story, you know you are about to be manacled in the spell of his narrative." - Calvin Miller, author of

The Singer Trilogy.

"Glimpses of God is a clearly written, grace-centered collection of stories gleaned from Scott Walker's personal experience that provide insight and inspiration for our venture of living." - Lowell O. Erdahl, author of 10 Habits for Effective Ministry.

Scott Walker is pastor of First Baptist Church, Waco, Texas, and the author of Life-Rails and The Freedom Factor.

Includes chapters entitled:
Glimpses of God's Spirit and Prayer;
Glimpses of Dreams and Visions;
Glimpses of Friendship:
Glimpses of Grace and Forgiveness; and,
Glimpses of Time and Eternity.