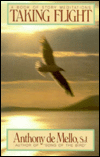 TAKING FLIGHT by Anthony de Mello ($11)
8.95
IMG: 0-385-41371-8

In the tradition of his bestselling Song of the Bird, de Mello has written these story meditations as stepping-stones to a spiritual life based on self-knowledge and understanding.

This book contains over 250 stories, grouped under the themes of prayer, awareness, religion, grace, the "saints," the self, love, and truth. Although they derive from a variety of countries and cultures, they share the spiritual heritage and popular humor of the human race. As he does so skillfuly in his other books, de Mello uses the medium of the story to enable his readers to work through their problems and arrive at essential Truth. With each deceptively simple anecdote comes a lesson forceful enough to break barriers to self-understanding and, subsequently, understanding others in all situations of life. "Even if you read the stories in this book only for the entertainment," he warns, "there is no guarantee that an occasional story will not slip through your defenses and explode when you least expect it to."

Taking Flight offers a joyful, transcendental experience. De Mello pilots our spiritual journey with the skill of a true master.