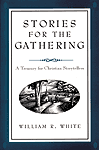 STORIES FOR THE GATHERING ($12)
9.49
AUG: 0-8066-3345-X

For groups large and small, this new collection of stories gathered by William R. White will capture the imagination of listeners of all ages. The author provides pastors and other Christian storytellers with more than fifty contemporary and traditional stories arranged under four themes:
Christmas and Other Festivals;
Lent and Easter;
Faith, Hope, and Promise; and,
Wisdom and Foolishness,
In addition to stories set in modern times, the author includes several short fables by Aesop, Leo Tolstoy, and other classic storytellers.

William R. White uses stories in his work as pastor of Bethel Lutheran Church in Madison, Wisconsin. He is the author of Speaking in Stories, Stories for Telling, and Stories For the Journey, all from Augsburg.