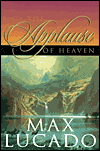 APPLAUSE OF HEAVEN by Max Lucado ($20)
17.95
TNP: 0-8499-1324-1

Joy that can't be quenched? Peace that can't be broken? Happiness that can't be threatened? There is such a joy. It is a sacred delight, a holy gladness. It comes from God and it is within your reach. You can't open your Bible without reading about it:
It's on Mary's face as she watches God sleep in a feed trough.
It's in Andrew's eyes as he stares at the lunchpail that never goes empty.
It's in the leper's smile as he sees a finger where there had been only a nub.
And it's in Lazarus' heart as he comes alive in his own tomb.
It is God doing what gods would be doing only in your wildest dreams--wearing diapers, riding donkeys, washing feet, dozing in storms---dying for your mistakes.

It's what you always dreamed but never expected. It's having God as your pinch-hitter, your lawyer, your dad, your biggest fan, and your best friend. It is having the King of kings in your cheering section. It is hearing the applause of heaven.

It is a joy that only God can give. It is a joy that no person can take.

Max Lucado believes that the Beatitudes provide what we need to discover the joy of God. "This joy is not cheap," he cautions. "What Jesus promises is not a gimmick to give you goose bumps nor a mental attitude that has to be pumped up at pep rallies. It is, instead, a radical reconstruction of the heart."

The Applause of Heaven, a best-selling classic, is much more than a "how-to" book on happiness; it's an encounter with the Source of joy. Read it and see that the Joy of God is within your reach. The applause of heaven is nearer than you think.

Includes a study guide which make it ideal for Bible study groups.

Hardcover edition.

(Purchase of this book helps you qualify for the free shipping option on your order.)