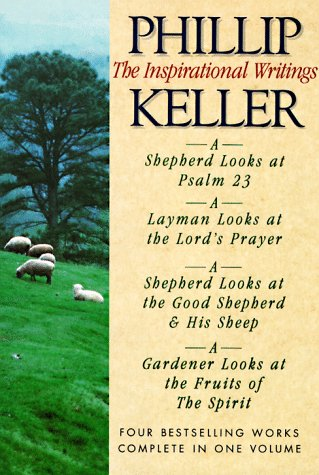 INSPIRATIONAL WRITINGS OF PHILLIP KELLER ($24.95)+
19.95
RW: 0-88486-086-8

THIS BOOK IS NOW OUT OF PRINT AND WE ARE LIMITED TO STOCK ON HAND!!!

Includes four best-selling works, including A Shepherd Looks at Psalm 23, A Layman Looks at the Lord's Prayer, A Shepherd Looks at the Good Shepherd and His Sheep and A Gardener Looks At the Fruits of the Spirit.

An "ordinary man and a child of God," Phillip Keller writes with sensitivity in these four bestselling works, exploring the beautiful relationships among the Good Sheperd, His sheep, the Father Who loves them and the Spirit Who guides them. From the unique perspective of his first- hand experience as a shepherd and naturalist, Keller brings the Scriptures alive as wonderfully profound truths originally expressed in the simple language of a rural people.

With over one million copies in print, A Shepherd Looks at Psalm 23 is a lively look at one of the most beloved passages in the Bible. Equipped with a shepherd's practical experience and insight. Mr. Keller leads and prods the reader to the greenest pastures of discovery and the coolest waters of fulfillment hidden in the "Shepherd Psalm." Encouragement and enlightenment are the rewards for those willing to follow his careful leading.

Keller gives freshness to familiarity in A Layman Looks at the Lord's Prayer, showing how the profound, eternal concepts compressed into the few, concise phrases of the Lord's Frayer shine with enduring brilliance. The Lord's desire as the Good Shepherd to watch over His flock and lovingly draw back to Him those stray is discussed in A Shepherd Looks at the Good Shepherd and His Sheep. In the fourth book, Keller takes a compelling and comprehensive look at the great principles of Spirit-filled living on a day-to-day basis in A Gardener Looks at the Fruits of the Spirit.

These four complete works - brought together in this single volume for the first time - are bound by a common theme of discovering in Scripture the basic truths radiating from the very heart of our Lord. Revealing the great compassion and love expressed in the words of God, Phillip Keller gives his readers reassurance and strength to follow wherever the Lord may lead.

This item does not qualify for free shipping. However, normal shipping applies and there is never a surcharge.