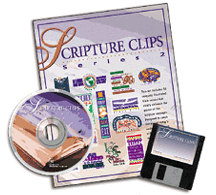 SCRIPTURE CLIPS 3 ($39.95)
29.95
CR: CL3CD

From age to age, the words of Scripture have meant inspiration, help and light to millions. And the Bible continues to have great power today. The illustrated verses in this set are a great way to put some of the Bible's key passages in front of contemporary audiences. We've selected 52 verses from across the range of Scriptures and had them beautifully illustrated by talented artists to produce striking, memorable images.

Clearly rendered in a high-contrast style, these images will add inspiration and visual impact to all your church publications. Each verse appears in 2 black and white version. One is from the New International Version (NIV) and the other from the King James Version (KJV). You also get both versions in color!