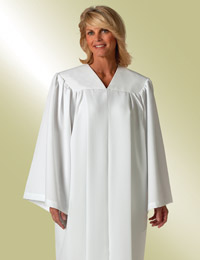 BAPTISMAL ROBE H152 (White) from Murphy Robes
81.90 74.95 On Sale!
MUR: H152

This budget priced Baptismal robe set offers extra savings and finer quality compared to other brands in the same price range. It is ready to ship within 24 hours of our receipt of order, and backed by the Murphy Qwick-Ship Guarantee of Satisfaction.

Features include:
Tailored in white quick-drying mildew resistant 100% polyester;

Traditionally styled with open sleeves;
Interlined yoke for lasting shape retention;
Hem weights keeps robe from floating;
Rust proof hook & eye closure;
Zipper closure guaranteed for life of robe;
Full length front opening makes robing quick and easy.
For sizing information, see the Murphy Robes page. To measure sleeve length, bend the arm at the elbow and hold arm out in front, parallel to the floor as if looking at a watch. Then, measure from the center back of the neck at the base of the neck, over the top of the shoulder, around the extended elbow, and down to the wristbone. Record this sleeve size on the Order Form, rounded up to the nearest full inch. Do not round down.

Six or more robes are $72.95 with free shipping. The shipping charge shown on your receipt will be removed prior to billing.

Because of the additional weight, shipping on this item (1 to 5 robes) will be $15 to $20 depending on your distance from Champaign, IL and the number of robes ordered. We will adjust your shipping charge upon receipt of your order. Any questions, feel free to call our toll free number. By placing your order, you agree to this change in the amount shown on your receipt.