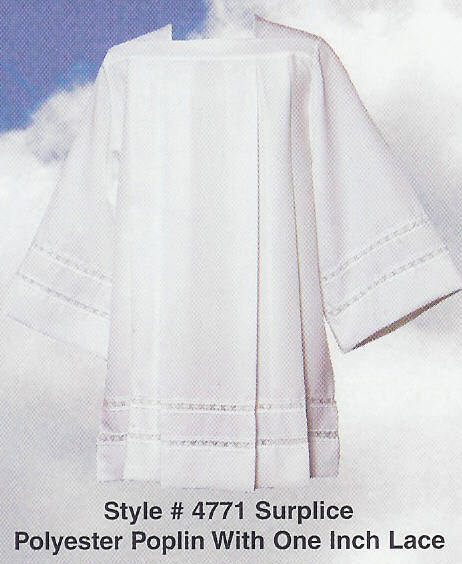 SURPLICES (from Beau Veste)(with free shipping)
92.95 86.95 On Sale!
BV

Surplices are available in the sizes listed and in the following fabrics:
Embroidered polyester (#4661). Features Swiss Schiffli embroidery and eyelet applied directly to the fabric. 100% Polyester for easy care. White Fabric with Alabaster embroidery. $194.95 ($204)
Lace polyester (shown left)(#4771). Features 1" woven lace bands on cuffs and bottom. White 100% Polyester for easy care. $119.95 ($129)
Smooth Silky White Poplin Polyester (#4884). $86.95 ($93)
White Polyester with Linen Weave (#4883). Two 2-inch Lace Bands on the hem and on the cuffs of the garment. $129.95 ($137)
Alterations of these sizes are available for an additional $50 charge. If necessary, the price will be adjusted upon receipt of your order.

Because of the additional weight on this item (5 pounds), shipping on this item will be about $12 depending on your distance from the Beau Veste factory in Butler, NJ. If ordering more than one item, that will also raise the shipping costs accordingly. Therefore, we will adjust your shipping charge to reflect this change upon receipt of your order. Any questions, please call our toll free number. By submitting your order, you agree to this change to your order!!