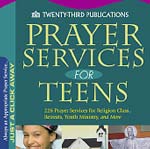 PRAYER SERVICES FOR TEENS ON CD-ROM
49.95
TW: A-74

Teens and teachers alike will appreciate and enjoy these prayer services that help teens delve into themes pertinent to living out their Christian commitment. Search through these 226 services by Church seasons, by the date of the lectionary readings, and by themes relevant to teens (e.g., concern for others, peer pressure, discipleship, self-image, real freedom). Teens can examine their feelings and their relationship with God, and discover the healing power of their Christian faith.

All of the prayer services are easy to access; have the Scripture texts built into the services; and involve the participants with a variety of readings, prayers, sharing, activities, and simple rituals. Unlimited reprint permission--for personal, group, classroom, or parish, not-for-profit use--comes with the purchase. Operating instructions along with the uniform, simple formatting make these new CD-ROM's very user-friendly. An indispensable resource for youth ministers, DRE's, catechists, principals, and high school teachers.