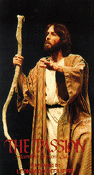 PASSION ACCORDING TO SAINT LUKE ($19.95)
16.95
IGN

No moment in history has had a deeper effect on humanity than the death and resurrection of Jesus Christ. Leonardo Defillipis' beautiful and honest dramatic performance of these events, taken directly from scripture, draws his audience into a deep understanding of the immensity of God's love for his children. His Shakespearean training and strong commitment to the message of the Gospel give him a profound appreciation for the passion and mystery of Saint Luke's account.

The Passion opens with Jesus' entry into Jerusalem and carries us through the Last Supper, the Agony in the Garden, onto the Cross and to the glorious Resurrection. Leonardo uses few props, allowing the Word of God to speak straight to the heart of the viewer.

During the six years Leonardo Defilippis spent acting in Shakespeare festivals in San Diego, Denver and Ashland, Oregon, he gradually grew in his desire to use his artistic gifts for the greater glory of God. In the fall of 1980, he embarked on a spiritual journey that has led him to produce dramas on the Gospels of Luke and John, The Song of Songs, the lives of St. Francis of Assisi, St. John of the Cross, St. Maximillian Kolbe and the Confessions of St. Augustine. He has performed sacred dramas for people of all denominations throughout the United States, Canada and Europe. His videos are distributed throughout the English-speaking world, and have been seen on both broadcast and cable networks. He and his wife Patti live with their children in Beaverton, OR.