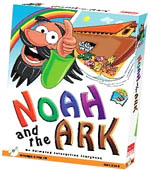 NOAH AND THE ARK (Interactive CD-ROM)($29.95)
19.95 14.95 On Sale!
LOG: 1-57799-161-3


Noah and the Ark
A fun click-and-play game that teaches values and Biblical truths!
Logos Research Systems' multimedia storybooks go far beyond simple amusement by teaching kids values and truths from the Bible, the most respected and widely read book.
Interacting with the story at their own pace is how kids learn best. Move forward or backward with a simple click of the mouse to repeat a favorite part.
Reading skills are improved through word recognition. The story is fully narrated with hundreds of useful vocabulary words. Choose a word or a sentence and the computer will highlight it then pronounce it in a natural voice.
Click and play - it's that simple! Your kids will discover dozens of hidden hot spots that make the story come alive with lots of fun animations, sounds, and original music.
Windows Requirements:
Microsoft Windows 3.1 or Microsoft Windows 95
33 Mhz 486 or better
4 Megs of Memory (8 Megs recommended)
256 Color Display
Double-speed or faster CD-ROM drive
A mouse and sound card
Macintosh Requirements:
System 7.0 or higher
25 Mhz 68040 or PowerPC
4 Megs of Memory (8 Megs recommended)
256 Color Display
Double-speed or faster CD-ROM drive
A mouse and sound card