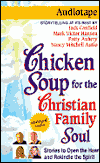 CHICKEN SOUP FOR THE CHRISTIAN FAMILY SOUL AUDIO ($11.95)
9.95
HCI: 1-55784

Subtitled: Stories to Open the Heart and Rekindle the Spirit.

If your relationship with God and your family are the most important things in your life, you'll find joy and inspiration in this collection of stories for anyone who realizes the miracles that result when you open your heart to Christ.

Each heart-warming story shares how other Christians of all denominations experienced divine moments in their lives when they practiced the values of faith, hope, charity and forgiveness. This faith-filled collection will encourage you to practice greater acts of kindness and compassion, remind you of what is important in life and inspire you to follow Jesus' example on your spiritual journey.