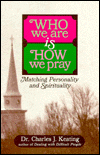 WHO WE ARE IS HOW WE PRAY by Charles Keating +
14.95
TW: 0-89622-321-3

Who We Are Is How We Pray is a popular presentation of the relationship between personality and spirituality. The author relates the personalities of sixteen types of Myers-Briggs to various kinds of spiritual life and practice. Examples illustrating different kinds of personalities found in people from many occupations and age groups demonstrate spiritual success or spiritual failure, depending on the adoption of the right spirituality for the right person.

Who We Are Is How We Pray is an exploration too long delayed. It will be welcomed by many well-meaning and dedicated people who have been led or misled towards types of spiritualities that are foreign to their natural inclinations.

In the author's personal style, he says, "Like hungry people, we eat what is put in front of us, whether it is good for us or not. We satisfy a temporary hunger, unaware that what was temporary too easily becomes habitual. We remain spiritual dwarfs, without understanding why. The normal explanation we hear is that God first invites us, so we wait for his invitation. But the fact is that God does not violate nature, that he will not intrude whereHis invitation cannot be heard. Many of us think we hear him, but often we are listening to ourselves, out of desperation.

"Like a guide to our inner selves, Who We Are Is How We Pray leads us through the labyrinth of our deepest drives, our choices as we go through life, and the satisfactions we find most fulfilling. We learn if we are more comfortable with an orderly spirituality or with less structured spirituality; if we will grow best with a social action spirituality or with a contemplative spirituality. So, while being a guide to our inner selves Who We Are Is How We Pray also guides us through the ancient and new 'schools' of spirituality. It's purpose is to link the right person with the right spiritual life; at heart, it is to be a matchmaker."

This is Dr. Charles J. Keating's final book, published posthumously. He spent over thirty years as a free lance writer, spiritual director, and consultant in Human Relations Development for industry, religious congregations, and within government programs.

This title does not qualify for free shipping.