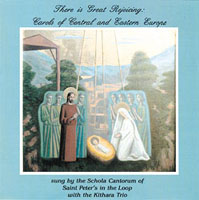 THERE IS GREAT REJOICING: Carols of Central and Eastern Europe ($16.95)
13.95
LP: 0-8146-7895-5

Carols of Central and Eastern Europe
Schola Cantorum of St. Peter's in the Loop, Chicago, Illinois, with the Kithara Trio; J. Michael Thompson, Director
Located in Chicago's metropolitan area, St. Peter's in the Loop serves a diverse group of "working" worshipers. Through the thousands of people who worship there during the business week, the Schola has received invitation from parishes and institutions throughout Chicago. In the course of its journeys, it has been called upon to sing the music and the languages of many nations.

It is through these contacts that this collection was conceived. Chicago is home to the six ethnic groups of central and eastern Europe whose marvelous carols grace this recording. The twenty carols, performed in English, include


Mary the Maiden


Tell Us, Shepherds


Come, Shepherds, Joyfully


Kyrie eleison!
There Was Great Rejoicing
O Come Rejoicing
On This Day of Gladsome Joy
Hark to the Angels
Sing Now of Wonder
There Is Joy in Bethlehem
Christ Is Born This Evening
Shepherds of Bethlehem
Praise the Lord!
O Rejoice, Virgin Mother
Hear the Wondrous Tidings
Shepherds Came to Bethlehem
While Mary Rocks Her Child
When the Virgin's Baby Wakes
Unto Us Born Now
In Heaven a Bright Star
They represent Polish, Croatian, Ukrainian/Carpatho-Rusyn, Slovak, and Hungarian traditions.
Digitally recorded for clarity and quality of sound.
J. Michael Thompson is the director of music ministry at St. Peter's Church, where he is the founder and director of the Schola Cantorum. He has been a pastoral musician and liturgist for twenty years, as well as a composer, author, and a noted promoter of the Liturgy of the Hours and Gregorian chant in contemporary parish situations.