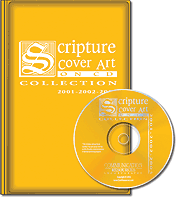 SCRIPTURE COVER ART ON CD, VOLUME 4 ($59.95)+
53.95
CR: SCCD123



You can create stunning custom bulletins with just a few clicks of your mouse when you use Scripture Cover Art on CD Collection Volume 4.

This huge collection gives you 179 designs from our popular cover art sets from 2001, 2002 and 2003. Youíll always have a bulletin thatís just right and easy on your budget.

Each design comes in black-and-white and full-color TIFF and JPEG formats. Many are also available in WMF format. And all the color covers are provided in GIF format (for your Web site).

Simply choose a design and personalize it with your church information, or use as is. Then reproduce as many as you need.

No wonder so many churches choose Scripture Cover Art on CD Collection over pre-printed covers.


This item does not qualify for free shipping. However, normal shipping applies and there is never a surcharge.