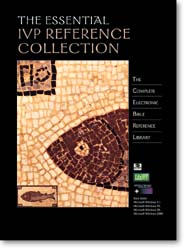 ESSENTIAL IVP REFERENCE COLLECTION ($169.95)
139.95 109.95 On Sale!
IVP: 0-8308-1455-8



The best scholarship. The most up-to-date information. Useful. Fascinating. Easy.

Other CD-ROM reference libraries today make you pay for dozens of out-of-date, public domain books that do not give you the best and most recent scholarship--the timely and reliable information you want and need. By contrast, The Essential IVP Reference Collection includes only work from the best of today's biblical and theological scholars.

You'll have instant access to IVP's award-winning New Testament dictionary series:
Dictionary of Jesus and the Gospels,
Dictionary of Paul and His Letters,
Dictionary of the Later New Testament and Its Developments,
Dictionary of New Testament Background
the immensely popular Bible background commentaries:
IVP Bible Background Commentary: Old Testament,
IVP Bible Background Commentary: New Testament
as well as the New Bible Dictionary and New Bible Commentary which have set the standard for Bible reference books for over a generation. And that's just the beginning! Does a particular verse trouble you? Hard Sayings of the Bible gives in-depth explanations of over 500 of the most difficult passages in the Old and New Testaments. Are you interested in the meaning of recurring images in Scripture? The Dictionary of Biblical Imagery will aid your exploration of the themes, metaphors, imagery and patterns of Scripture. New Bible Atlas, New Dictionary of Biblical Theology and New Dictionary of Theology will help round out your study of the places, peoples, interpretations and implications of biblical teaching.

On this single CD you'll find:
over a dozen of IVP's award-winning reference books
the equivalent of over 12,000 pages of printed material
over 10 million words of the most up-to-date information on the Bible, Bible history, cultural background and theology
the authoritative work of hundreds of today's leading biblical and theological scholars from all over the world
a money-saving package that includes the equivalent of over $450 worth of printed books
easy-to-use software that will have you up and going in minutes
a free KJV Bible
unlockable NIV, NRSV, RSV, NASB, NLT and The Message
unlockable Complete Works of Josephus and Works of Philo
complete user's manual included right on the CD-ROM for easy access
every book interconnected to work as a single reference source
This exclusive collection includes works you'll find nowhere else on CD-ROM, including many just published during 2000. The Essential IVP Reference Collection is ideal for pastors, scholars, students, Sunday school teachers and anyone who is serious about studying the Bible!
NOTE: This reference collection is built on the Logos Library System. A free upgrade will be available from Logos when their new Libronix Integrated Digital Library System is released (scheduled for Summer 2001). Logos system requirements are: Windows 3.1, Windows 95, Windows 98 or Windows 2000. Logos system recommendations are: Pentium-class computer, 16 MB RAM, 2X or higher CD-ROM drive, modem or Internet connection (for downloading the free upgrade from Logos).

Features & Benefits
thirteen award-winning IVP reference books at your fingertips
the most up-to-date information
the most convenient format
represents the work of hundreds of the world's best biblical and theological scholars
includes IVP's complete New Testament Dictionary series (all four volumes)
features exclusively IVP's Dictionary of Biblical Imagery
money-saving package
includes a free KJV Bible
includes unlockable NIV, NRSV, RSV, NASB, NLT and The Message
inlcudes unlockable copies of The Complete Works of Josephus and The Works of Philo
features the Libronix Integrated Digital Library System (which allows users to access many sources in one digital display)
complete user's manual right on the CD-ROM
system requirements: Windows 3.1, Windows 95, Windows 98, Windows NT 4.0, Windows 2000
Reviews & Endorsements
"This collection is truly essential for serious students of the Old and New Testaments. It brings together a wide scope of crucial tools--maps, dictionaries, commentaries, background studies and more. Not only is it wide in its scope, its content is profound and its writing accessible. Everyone who loves the Bible should own and use this tool." - Tremper Longman III, Robert H. Gundry Professor of Biblical Studies, Westmont College

"A must-have assortment of award-winning resources in the most widely used digital format. . . . Highly recommended to all serious students of Scripture." - John R. Kohlenberger III, co-editor, NIV Exhaustive Concordance

"This is a preacher's dream come true. The Essential IVP Reference Collection provides instant access to a massive body of evangelical biblical scholarship that will empower a whole generation to preach and teach with greater accuracy and authority. Thanks be to God for this gift to the church!" - R. Kent Hughes, pastor, College Church (Wheaton, Illinois)

"I cannot imagine that there is another CD-ROM in the world offering as much accredited help to the serious Bible student as you find in The Essential IVP Reference Collection. Up-to-the-minute academically, lucid, lively and sometimes provocative, it is a truly magnificent resource. And think of the money it saves--cd ..shelf space too!" - J. I. Packer