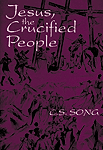 JESUS, THE CRUCIFIED PEOPLE by C. S. Song ($20)
16.95
AUGS: 0-8006-2969-8

A deeply moving and challenging book, Jesus, the Crucified People breaks a theological stranglehold on the figure of Jesus and glimpses in a new, non-Western way both Jesus and Christianity.

Against the rich cultural background of Asia, Song's volume explores the mystery of the Word that from the beginning of time now comes poignantly to us in the stories and testimonies of women, men, and children. Song eloquently fashions a "people hermeneutic" to sketch an account of Jesus' life, ministry, death, and resurrection for our world today.

This much-hailed volume anchors Song's monumental trilogy, the Cross in the Lotus World, which also includes Jesus and the Reign of God (1993), and Jesus in the Power of the Spirit (1994), also published by Fortress Press.

"A powerful Asian Christology. The suffering of Asian women, men, and children struggling for life in the face of death confronts us with the passion of Christ in our neighbor." --Letty M. Russell, Yale Divinity School

"C. S. Song groans, cries, shouts, protests, and argues passionately against the God who crucified Jesus among the people of Asia. . . This theology is a great leap from Western and Latin American liberation theologies." --David Kwang-sun Suh, EWHA Woman's University, Seoul

About the Author: C. S. Song is Professor of Theology and Asian Cultures at the Pacific School of Religion, Berkeley, and Regional Professor of Theology at the Southeast Asia Graduate School of Theology in Singapore.