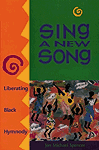 SING A NEW SONG: Liberating Black Hymnody ($24.95)
21.95
AUGS: 0-8006-2722-9



Jon Michael Spencer catalogs ways in which systemic distortions within the Christian tradition - notably its biases and myths about race, class, and gender -- have infected even black Christianity. Spencer believes that black churches and their hymnody are caught in a "liberative lag," still captive to Eurocentric apppropriations of the Bible. His learned and eloquent plea is for a more thorough understanding of those distortions, more critical use of specific biblical traditions on which many are based, and more efforts within black Christianity to transcend them. To encourage and exemplify the latter, Spencer proposes a new hymnody and hymnal, and his book includes text and music for six original hymns composed by him.

"We need to listen to this book and its author -- we, not least, whose ancestry is European, and who love and sing hymns. I hope we can listen actively, humbly, and critically. Jon Michael Spencer is a prophet: intelligent, insightful, convincing, infuriating. When such a spirit troubles the waters, don't moan about the splash, or say the water's too cold. Just get in the pool." --Brian A. Wren, British hymnwriter and author of What Language Shall I Borrow?

"For those of us struggling to engage in theological scholarship that matters, Jon Michael Spencer's is an important perspective to be reckoned with. In his careful study of the influence of Christian Eurocentric ideological thinking upon Afro-Christian hymnody and in his impressive exegesis of select problematic biblical texts, Spencer has broadened the parameters of the dialogue in liberation scholarship. We should be convinced by Spencer's work that, because of its direct influence upon the imagination of a people, black religious lyrics warrant the same sober analysis as does, say, black preaching or black protest movements." --Renita J. Weems, Vanderbilt Divinity School

About the Author: Jon Michael Spencer is Associate Professor of Afro-American Studies at the University of North Carolina at Chapel Hill, and editor of the journal Black Sacred Music.