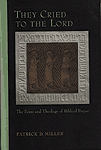 THEY CRIED TO THE LORD: The Form and Theology of Biblical Prayer ($28)
23.95
AUGS: 0-8006-2762-8

Both compellingly and clearly, Patrick D. Miller introduces biblical prayer in all its varied forms and from different angles: the prayers of Israel's neighbors, the names of God in prayer, prayers for help, the response of God, praise, the prayers of women, confession and penitence, prayers for others, blessing and curse, and Jesus and Paul at prayer.

The perspective throughout is that of faith-- and its relation to prayer and theology. The result is a book of importance for church members, students, scholars, and others.

"I have sought to take a broad and detailed look at the shape of prayer, its primary features, structure, and content in its various forms, and in that context to discern something of the theology of prayer, but even more determinedly of the character of the God to whom these prayers are lifted, the human ones who utter them in joy and sorrow, and what we can discern from them about the divine-human relation." --from the Introduction

"Prayer and theology exist in relation to each other in a correcting circle, the one learning from the other and correcting the other." --from the Introduction

"This is an excellent book on faith's center and source of power. Patrick Miller shows the wealth and diversity of forms and effects prayer has and , along the way, introduces the reader to the theology and spirituality of the Old and New Testament traditions. This volume will become a standard work not only for exegetes but also for both practical and systematic theologians, for pastors, and for anyone interested in understanding the foundations of piety." --Michael Welker

"Some of us theorize about the possibility of doing biblical theology, but Patrick Miller practices it. His inclusion of the New Testament witness on prayer is not just an appendix to his work but a masterful contribution to the subject. His discussion of the continuity between the Testaments is held in fruitful tension with the issue of other perspectives that the new Testament opens up." --J. Christiaan Beker

"Patrick Miller's book on biblical prayer is simultaneously scholarly and inspiring. His consummate knowledge of canonical texts and related ancient Near Eastern material combines with his superb theological understanding to produce a landmark study that touches both the mind and the heart of the reader." --Paul D. Hanson

About the Author: Patrick D. Miller is Professor of Old Testament Theology at Princeton Theological Seminary.