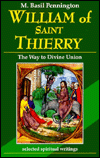 WILLIAM OF SAINT THIERRY, The Way to Divine Union by M. Basil Pennington ($10.95)+
9.95
NCP: 1-56548-106-2

NOW OUT OF PRINT!!! WILL NO LONGER BE AVAILABLE ONCE CURRENT STOCK IS DEPLETED!! Bernard of Clairvaux and William Saint Thierry were close friends who urged one another on to sanctity.In fact,William's significant spiritual journey began when as a young man he visited Bernard at his abbey in Clairvaux. Twenty-five years later he would still describe that blessed moment with awe. He "saw" contemplative union with God in that man who was to become the spiritual father of his century. This anthology captures the ascent together. Pennington carves William's passion and emotion of love for God out of his many writings and makes them available here in clear, incisive English. William Saint Thierry's is really a story told by God which invites us also today along the road of a fulfilling spiritual journey. With this book you too will come to know William as a friend and teacher. Follow Pennington and "taste and see."

M. Basil Pennington is a Trappist monk from St. Joseph's Abbey, Spencer, MA. He is considered one of the leading contemporary spiritual writers and is the author of such classics as Bernard of Clairvaux--A lover Teaching the Way of Love, Call to the Center, Thomas Merton--My Brother, Daily We Touch Him, and A Place Apart.

This item does not qualify for free shipping. However, normal shipping applies and there is never a surcharge.