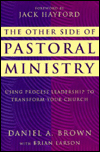 OTHER SIDE OF PASTORAL MINISTRY, THE, by Daniel Brown +
15.95
ZON: 0-310-20602-2

Daniel Brown believes churches ought to flow like a river, not sit motionless like a lake. A veteran pastor, Brown knows that River Churches are alive--dynamic, gaining momentum, changing courses. He also knows the power such churches can have to change lives. In The Other Side of Pastoral Ministry, he shows what makes a River Church flow--and invites pastors and church leaders to follow ten key "currents" that can move their people to new places of faith and service. Brown reveals the crucial dynamics of - Building authority - Defining and communicating vision - Strengthening systems - Coaxing changes - Empowering people for ministry - Adjusting church culture - Positioning and unleashing resources - Maintaining identity - Understanding the times - Evaluating results. If you're ready for a church whose focus is on involvement, not attendance--on "What happened to the people who showed up?" not "How many showed up?"--then this insightful, anecdote-filled book will provide you with practical suggestions and thought patterns to move into the flow of the River.

About the Author: Daniel Brown is senior pastor of The Coastlands, a 1,000-plus -member congregation in Aptos, California. Eighty-five percent of the congregation are involved in some type of ministry or small group, and during its eleven years, The Coastlands has launched fourteen other churches. Brown holds an M.A. in creative writing and a Ph.D. in higher education from UCLA. He is the author of Unlock the Power of the Family and Handbook for Church Planting.

Brian Larson is a contributing editor to Leadership magazine. He was a pastor for fifteen years. His other books include Running the Midnight Marathon (author) and Preaching that Connects (coauthor).

This item does not qualify for free shipping. However, normal shipping applies and there is never a surcharge.