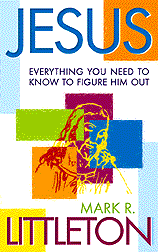 JESUS, Everything you need to know to figure him out ($16.95)
13.95
WJK: 0-664-22245-5

Who was Jesus? What did he do during his lifetime? What effect has he had on history?

The answers to questions like these and others are provided in Jesus: Everything You Need to Know to Figure Him Out, an easy-reading compendium of facts, articles, stories, and more about Jesus. Each entry is arranged alphabetically by topic and draws from sources such as the Bible, Western history, and contemporary popular culture.

Did Jesus ever weep? Look up "Weeping" to find every recorded instance in scripture of Jesus weeping and his reasons for doing so. What do rock groups say about Jesus? See "Rock Music and Jesus" for references to Jesus in the music of artists like Simon and Garfunkel on up to U2.

Jesus: Everything You Need to Know to Figure Him Out is not intended as a scholarly treatment or as a reference book. Instead, popular author Mark Littleton has written a delightful and engaging book to introduce the reader to fascinating information about Jesus Christ and his legacy without being preachy or dogmatic.

And don't forget: we charge only actual shipping, not a fixed amount. So, just like the call collect guys, we can save you "a buck or two" on lightweight items including paperbacks, compact discs and cassettes!! So you may save on the list price with the other guys, but you'll more than pay them back on the shipping charges!!!