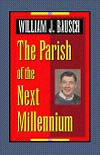 PARISH OF THE NEXT MILLENIUM by William J. Bausch +
16.95
TWT: 0-89622-719-7

Catalogues the deep issues dealt with in church and society today, gives concrete signs of hope and rebirth on which to build in the next millennium, and seeks for a posture from which parishes will operate no matter how the structures change.

This item does not qualify for free shipping. However, normal shipping applies and there is never a surcharge.