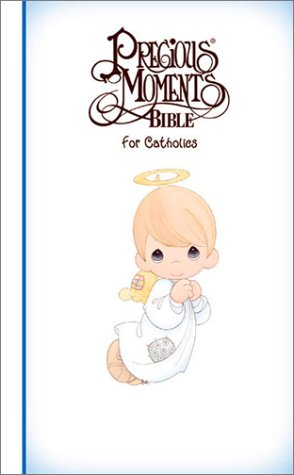 PRECIOUS MOMENTS BIBLE FOR CATHOLICS (NRSV and TEV)($19.99)+
14.95
TNP: 0-7852



Commemorate the event with the special presentation section.

Precious MomentsŪ Bible
For Catholics

NRSV or TEV Catholic Edition

Pages: 1624 Size: 5-1/8 x 8 x 1

The Precious MomentsŪ Bible for Catholics has been one of the most popular Catholic Bibles ever.

Sam Butcher's winsome Precious MomentsŪ pastel color illustrations highlight the presentation section in the front of the Bible and the Scripture readings section in the back. The hardcover has colorful artwork featured on the front.

This beautiful Bible makes a wonderful gift for First Communion, confirmations, or weddings and is a special collectible for all who love Precious MomentsŪ.
Features
Fully revised text
Color illustrations by Sam Butcher
Special presentation/register section with illustrated pages for first communion, confirmation, and wedding memories
Familiar Scripture readings illustrated with Precious MomentsŪ art
Textual study aids
Maps
Illustrated hardcover or imitation leather cover
Imprimatur by the Most Reverend William H. Keeler and the Most Reverend Edward U. Kmiec
Available in English in either New Revised Standard or Today's English Versions with either a White hardcover, Violet or Blue Leatherflex cover. Also available as a White Leatherflex Baby Edition or White Paperback New Testament with Rosary. Prices are as follows:
White Hardcover (NRSV): $39.95 (4270)(#5845-0)
White Hardcover (TEV): $49.95 (1270NN)(#5845-0)(only 1 left)
White Leatherflex (TEV)(Baby's Edition): $19.95 (1202PM)(#0083-5)(Limited Supply)
Violet Mist Leatherflex (NRSV): $49.95 (4271V)(#5847-7)(Limited Supply)
Blue Mist Leatherflex (NRSV): $41.95 (4271B)(#5846-9)
Blue Mist Leatherflex (TEV): $41.95 (1271NBN)(#0054-1)
White Paperback New Testament (with Rosary)(Contemporary English): $19.95 (#3220PM)(Limited Supply)
The Baby Edition White TEV features sixteen full-color pages with an ample "Baby Registry" section which features a birth announcement page, growth chart, record of family and friends and more. Illustrated inside covers permit inclusion of baby pictures!! Elegantly boxed, it is a perfect gift for a baby shower or the mother-to-be!!

PLEASE NOTE: Due to the nature of our shopping program, if you are ordering any of the titles other than the Baby Edition, the price will be adjusted upon receipt of your order but will not be reflected on your program-generated receipt. We will adjust your order to the correct amount when we receive your order. Thanks for your understanding!!

The New Testament includes a Rosary which is hand made in Italy with a sterling silver chain, Opalescent glass beads and exclusive Precious Moments case. Perfect for gift giving!!!

This title does not qualify for free shipping. However, normal shipping applies and there is never a surcharge.