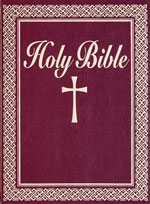 NEW AMERICAN BIBLE (Catholic Family)(Nelson)($54.99)+
44.95
NEL: 0-8407




Publisher: Nelson Bibles
SKU: 0840713630
Format: Padded Hardcover
Color: Burgundy or White
Length: 1256
Size: 8-1/2 x 10-7/8 x 2-1
Weight: 7.06 lbs

Version: New American Bible
Features:
Imprimaturs by Patrick Cardinal O'Boyle, D.D.; James Cardinal Hickey, S.T.D., J.C.D.; and the Most Reverend Daniel E. Pilarczyk
Color photo of Pope John Paul II
Presentation page; family register
Bible book introductions/outlines and notes
Gift box
This title does not qualify for free shipping. However, only actual shipping is charged and there is never a surcharge.