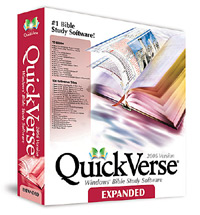 QUICKVERSE 2009 (Expanded with free Mobile Life Applicaton QV) ($249.95)
$179.95 $109.95 On Sale!


New and Enhanced Features
NEW! Subject Search: Perform a topic or subject search and QuickVerse automatically expands all scripture references and embeds them directly into the search results.



NEW! Google Maps: Parsons Bible Maps is now fully integrated with Google Maps.



NEW! Dock Bibles and Books: Dock your favorite Bibles or Books so they are always accessible in any study view.



NEW! Interface Flexibility: Detach any or all of your book windows to better accommodate a larger Windows desktop area — perfect for higher resolution single and multiple display monitors.



NEW! Bible Study Views: Additional default Bible and reference study views support the new docking/window types.



NEW! Additional Media Links: User book features now include links to audio, pictures, and video.



ENHANCED! Streamlined Search Processing: Updates to all search processes make QuickVerse faster and easier.



ENHANCED! Copy/Pasting Processes: Now you have more options and cleaner formatting in word processors and presentation programs. You can now include/exclude verse marks, paragraph formatting, single line per verse options, and more.



ENHANCED! Help Resources: QuickVerse 2009 includes an expanded help system.



And much more!


Guaranteed Value! We pride ourselves in providing the most value for your dollar. We offer several pre-configured library packages with a price range you can easily fit into your budget. Whether it's Essentials, Platinum, or something in-between, we guarantee your Bible study experience will reach new levels — or your money back!



Content you can use! Each edition of QuickVerse contains the most popular Bibles and References compatible with your budget. For a complete listing of books, click here.



New Content for QuickVerse 2009! Visit this chart to see the new content for QuickVerse 2009.



Additional Key Features
SEARCH FEATURES
Search and Find: Our advanced search engine allows you to search words, phrases, book/chapter/verse references, Greek, and Hebrew (including morphological searching).



Save and Recall Searches: Save all of the attributes of any Book Search and instantly recall the results along with all of the search criteria. Save as many Book Searches as you like and access them immediately from within the QuickVerse Library. Save multiple variations of the same search and instantly compare the results.



Word Form Search: Find all forms of a given search word without embedding cryptic symbols like "*" or "?". Search for "rise" and receive "arise", "risen", "rising", and "rise". Search for "Love" and receive "Lovest", "Loveth", "Loved", "Loving", and "Love".



Thesaurus Search: Search for similar words including those hard-to-remember 16th century words like "Forthwith" (immediately), "threescore" (sixty), "Fourscore" (eighty). Search for "sure" and find "certain", "certainly", and "sure". And many more.



Search the "Words of Jesus": This unique feature allows you to search only the words and phrases spoken by Jesus.



Phrase Search: Perform multiple word searches matching all words down to a single Bible verse. Find "God" and "command" where both are present in a single book/chapter/verse.



QuickSearch: Find a verse, word, or date with one easy entry — always available for every book in QuickVerse.



VerseFinder: Browse through your entire library with the industry's fastest navigational tool for any book, chapter, or verse.



Search entry and results Windows: Provide extended previews for all search results in single or multiple book sources.



INTERNET SUPPORT
Integrated Web Pages: Link all of your favorite Web Pages in the QuickVerse Library for instant recall. View them next to your favorite QuickVerse books. Use key QuickVerse resources like Quick Define, Pronunciation, and Search. Visit your favorite Web Pages fully integrated in QuickVerse.



Integrated PDF: Add PDF files to QuickVerse for fast retrieval and reference. Local PDF files, network PDF files, or online PDF files are all supported. Place any number of PDF files in the QuickVerse Library for instant retrieval, review, and comparison. Add your favorite PDF files to your User Books for instant recall.



Integrated RSS: Now you can support your favorite RSS subscriptions directly within QuickVerse. Support for multiple subscriptions, categories, and articles, and refresh frequencies. See your favorite feed articles inside a QuickVerse View Window along with all of your favorite QuickVerse books.



Web Dictionary Support: Search key online dictionary/encyclopedia resources for key words without ever leaving QuickVerse. Extend your lookups to Wikipedia, Britannica, Encarta, Worldbook, Oxford and other online dictionary resources. Pull definitions from vast online resources immediately. Retain those lookups in a QuickVerse View Window.



MULTIMEDIA FEATURES
Holy Land Maps: View 50 high-resolution maps — easily printed or copied. Each is fully captioned and indexed.



Audio Pronunciations: Hear those difficult Biblical references so you know the proper pronunciation. Over 6,500 audio words are simply a click away.



Over 2,000 Photos: Includes over 2,000 brilliant high-resolution color Holy Land photos.



READING PLAN FEATURES
Bible Reading Plans: Select from 200 pre-configured reading plans for your daily reading pleasure. QuickVerse tracks your daily progress automatically.



User Reading Plans: Create, save, and track your own plans and reading schedules.



Parallel Bible Reading: Review multiple Bible translations side-by-side within your daily reading plan.



Auto-classification: QuickVerse automatically categorizes User Reading Plans by duration.



USER DATA FEATURES
User Books: Now you can create an unlimited number of your own QuickVerse books. Organize by Bible book/chapter/verse, by word, or by date. QuickVerse User Books support full word and book/chapter/verse synchronization.



User Links: Design your own hyperlinks to Web pages, verses or positions in the current book.



Book Notes: Note Indicators now mark every position in the Table of Contents in all books — you'll always know note positions in every book.



Autosave Notes: QuickVerse will save your notes automatically as you move through any book — even if you forget.



Highlighting and Bookmarks: Color code your favorite passages by topic or subject. Choose from up to 8 colors to highlight passages in one easy customizable list. Add Bookmarks anywhere in any book and reference those locations instantly.



Study Views: Save an unlimited number of working environments including books, book views, and window positions to handle many study situations.



Pre-set Study Views: Change your QuickVerse study views with several built-in, intuitive options for Window layouts.



Interactive Study Workbooks: Includes several interactive digital workbooks for Bible study. Read, answer, and print your results without ever leaving QuickVerse.



INTERFACE FEATURES
Ribbon Interface Control: QuickVerse functions are now in one easy-to-use location for quick selection, setting, and reference. This control center provides the latest in state-of-the-art user interfaces for all your Bible study needs.



Preview Panes: Review text font and style settings as you select options — screen fonts/sizes/text placements change as you preview your selections.



Strong's Greek/Hebrew Support: With Strong's Concordance and Greek/Hebrew dictionary you can link every English word in the Bible back to its original Greek/Hebrew roots. Includes Greek/Hebrew spelling, pronunciation, and complete English definitions.



Book, Chapter, Verse Synchronization: Synchronize the QuickVerse library by book, chapter, or verse. Move in one window and QuickVerse will automatically scroll commentaries and Bible translations in other windows.



QuickVerse Advanced InfoWindow: Mouse-over any verse reference and see that verse in a Bible window. Mouse-over any Strong's number and review the definition of that number in all Strong's resources. Mouse-over a word link and see the definition of that word in all available dictionaries — all in one powerful InfoWindow.



Custom Bible Views: View the text in your Bibles by paragraph, verse-per-line, or with a divider line between verses.



Parallel Gospels: View the parallel passages of Matthew, Mark, Luke, and John in your favorite Bible.



Full Office Smart Tag Support: Immediately locate and import your favorite passage from any Bible or reference work without leaving your favorite Microsoft Office application.



Enhanced Copy/Print: Use advanced citation formatting with translation references and publisher information (including permission to quote) for copied and printed text.



Download Library: With an internet connection, you have instant access to hundreds of today's most sought-after Bible translations and Christian references.



QuickVerse History: Return to any point or position in your current QuickVerse session. Just pull up the History Window and review your activity. Select any book action and return instantly to that position.



Verse Selection: Select an entire verse in any Bible translation with one simple click. Highlight, bookmark, or copy a full verse using One-click Verse Selection.



Highlighting Capabilities: Color code your favorite passages by topic or subject. Choose from up to 8 colors to highlight passages in one easy customizable list.



QuickVerse 2009 Summary Features
QuickVerse Works for You

Bible scholars, pastors, teachers, group leaders, students, and new believers will all harness the power of computer Bible study and achieve instant results with QuickVerse! From Greek/Hebrew word study to simple daily reading plans — QuickVerse does it all!
Pictures, maps, word pronunciations sophisticated searching, completely automatic multi-window text synchronization, detailed commentary covering every verse of the Bible, notes, bookmarks, highlights, word processor integration and more.



Simple, Yet Sophisticated Research Power

QuickVerse is the most advanced Bible study software available, and is easier and more powerful than ever before. Our sophisticated search engine allows you to perform word, phrase, Biblical reference searches and Hebrew and Greek Morphological searches, book searches, and topical searches.



Modern, Easy-to-Use Interface

QuickVerse 2009 is simplified Bible study at its best. It is the easiest, yet most advanced, Bible study software available. Streamlined features and functions give you instant access to scriptures, commentaries, definitions, even the original Greek and Hebrew text. Multiple tabbed windows with individual controls provide automatic synchronization and media display.



Sermon and Lesson Preparation Made Easy

QuickVerse provides the key to cross-referencing Bible translations, commentaries, dictionaries, and original language tools to help you help others understand God's word. Use the QuickVerse advanced Office Smart Tags and enhanced copy features to blend key Biblical reference material into your lessons and sermons — instantly!


System Requirements
| | |
| --- | --- |
| Operating System: | Windows XP, Vista  |
| Hardware: | Pentium III with 500 MHz (or equivalent), or higher |
| RAM: | 256 MB or greater |
| Hard Disk: | 1.45 GB |
| Peripherals: | CD-ROM or DVD-ROM |