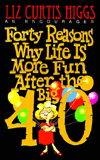 FORTY REASONS WHY LIFE IS MORE FUN AFTER THE BIG "40" by Liz Curtis Higgs ($10.99)+
9.95
TNP: 0-7852-7615-7

Encourager "RM" Liz Curtis Higgs, along with more than 400 "over 40" women share their often humorous stories of the joys and challenges of life after the age of forty. Liz also shares some hilarious stories of her own fortieth birthday.

This item does not qualify for free shipping. However, normal shipping applies and there is never a surcharge.