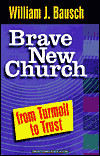 BRAVE NEW CHURCH by William Bausch +
16.95
TWT: 1-58595-135-8

Father Bill Bausch knows about parish life in the Catholic Church firsthand. In this his latest offering he charts a direction for the Catholic Church to follow in years to come. He begins by focusing on twelve challenges facing the Church today, including religious illiteracy, anti-Catholism, secularism, pluralism, Church scandal, and authority. He then considers the transitions and responses that can move the Church forward as it seeks to minister to parishioners of the twenty-first century.

Father Bausch writes in a clear, informative, and uplifting style. The book is peppered throughout with personal anecdotes, parables, and citations from current news stories and reports. He frames his arguments in a way that is both pastoral and incisive, shaping his ideas and suggestions with solid historical background and strong Catholic principles.

Brave New Church: From Turmoil to Trust completes a trilogy which includes The Parish of the Next Millennium and Catholics in Crisis? It is a resource that will be invaluable to clergy, religious, lay ministers, students, and all who are ubterested ub the future of the Catholic Church.

After years of service as a pastor, William J. Bausch, a priest of the Diocese of Trenton, N.J.,has been serving the wider Church as author, lecturer, consultant, and retreat director. He is the author of The Word: In and Out of Season, the Yellow Brick Road and A World of Stories for the Preachers and Teachers, all available on this site.

This item does not qualify for free shipping. However, normal shipping applies and there is never a surcharge.