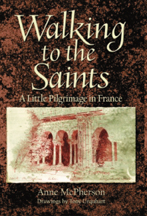 WALKING TO THE SAINTS, A LITTLE PILGRIMAGE IN FRANCE by Anne McPherson ($18.95)
15.95
PP: 0-8091-4018-7



"The chronicle of a lifelong journey of spiritual discovery is told with reverence, reality and humour. As Anne McPherson follows the wanderings of medieval pilgrims, her vivid responses to ancient French churches and abbeys echoed my own feelings of wonder at the sheer weight of time one feels in France. This book is a welcome invitation to explore the sense of eternity expressed by these hallowed buildings, and to join in the author's contemplation of what it is to be divine or human, Christian or pagan, male or female, ancient or modern. "McPherson's writing has a highly personal, ethereal quality, making this contemplative book a challenging journey not only through the French countryside but also the highways and byways of historic Christian faith." --Publishers Weekly "I was reminded, in the comments on the nomadic nature of the pilgrims, that the word 'saunter' comes from 'sainte terre' (holy land)--a thought very much in keeping with the unhurried rambles that can be taken through this excellent book." --Timothy Findley, internationally acclaimed playwright and novelist and author of The Wars and Pilgrim-- "A deeply personal account of a love affair with France and her romanesque churches, written by a born pilgrim (this is a woman who knows what is important), out of extensive life-experience. Anne McPherson travels restlessly, indomitably, with openness and honesty; she interrogates everything she finds. The reader will find it well worth hearing what she comes back to tell us." --Margaret Visser, social commentator and author of Much Depends on Dinner and Geometry of Love "...honest thinking and reflection expressed in fine writing that crosses over that slim, thin line to literature." --Crux

"From the time I was five years old I knew France to be an enchanting country, a place of dreams..." For Anne McPherson, this impression became more and more entrenched with the passing years. In Walking to the Saints, she visits time-honored sites along France's medieval pilgrimage routes to Santiago de Compostela, reflecting on the architecture, the spiritual universe of medieval people, and the connections and contradictions between earlier theology and contemporary feminist thought. At the same time she discovers that each site, with its sainted patrons and antique heroes, mirrors part of her own life's journey. With intelligence, freshness and wit, Anne McPherson invites readers to join her in walking to the saints. The text is complemented by original, evocative drawings by well-known Canadian artist Tony Urquhart.

Anne McPherson is a freelance writer and art curator. With degrees in English Language and Literature and Religious Sciences, she taught English and Religion in Literature at the university level for 14 years. She lives in St. Catharines, Ontario, and Campagnac, France. Tony Urquhart is a visual artist who does sculpture, painting, drawing and printmaking. Many of his drawings appear in major museum collections around the world, including New York, London, Ottawa, Toronto and Lugano, Switzerland.