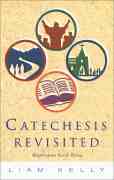 CATECHESIS REVISITED: HANDING ON FAITH TODAY by Liam Kelly ($10.95)
8.95
PP: 0-8091-3997-9

"Catechesis has an essential role to play in handing on faith," writes Liam Kelly in this personable and popularly written book. In it he takes on the important subject of catechesis and emphasizes that this is not a modern invention of the Church, but that proclaiming the Good News was a mandate from Jesus himself. Kelly devotes ample attention to how faith has been handed down through the centuries, but does not limit himself to a historical perspective. Looking at the history of catechesis automatically prompts the question, Kelly says, "But what about handing on faith in the parish community today? And so, in the light of that history, this book offers a model for catechesis and some pastoral, practical reflections to aid the ministry of catechesis." Written for catechists old and new, as well as priests, persons considering becoming catechists, this book will be a valuable resource. The reflection questions following each chapter ensure that it is appropriate for group discussion as well as private thought.

About the Author

Liam Kelly is a Roman Catholic priest in Derby, England. He studied at the English college in Rome and is much involved in adult education at local, diocesan and national levels. He has also written Sacraments Revisited for Paulist Press.