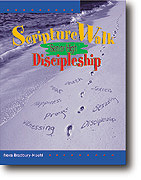 SCRIPTURE WALK SENIOR HIGH: DISCIPLESHIP by Nora Bradbury-Haehl ($21.95)*
17.95
SMP: 0-88489-642-0

ScriptureWalk Senior High: Discipleship includes eight sessions on death, discipleship, fear, happiness, prayer, sadness, sexuality, and witnessing.

Biblically Sound
Each session is developed around a specific Scripture passage.
Each passage's interpretation is solidly based on church teaching and contemporary biblical scholarship.
Flexible in Design
Each of the eight sessions has three flexible components that can be combined for a 45- to 90-minute session on the theme.
Or any component can be used independently as part of another meeting, class, or retreat.
Youth Friendly
ScriptureWalk Senior High: Discipleship challenges young people to grow in their faith, using a format that encourages their questions and participation.
The components offer a mix of experiences to appeal to teens: Bible study and discussion, fun and meaningful activities, and opportunities for prayer.
Easy to Use
The sessions include clear, uncomplicated directions for leaders. Young people who have been trained as leaders can even lead the sessions.
The Scripture background is designed to be read as a group, freeing the leader from lengthy presentations.
(Purchase of this title helps you qualify for the free shipping option with a purchase of $25 or more and if it is being offered at the time of your order.)