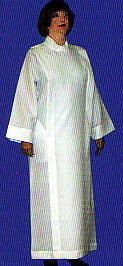 ALBS: FRONTWRAP CASSOCK (for Women)(from Beau Veste)(with free shipping)
120.95 112.95 On Sale!
BV 4997 or 4995

A Frontwrap Cassock Alb for women is available in the sizes listed. Made of a lightweight Linen weave polyester with optional 2 inch Renaissance lace bands [$146.95 (list: $156)]. Please indicate your preference when ordering. If ordering the alb with lace, the price will be adjusted upon receipt of your order but will not be reflected on your program-generated receipt. Washable, requires no ironing.

Free ground shipping offer applies only to orders shipped within the continental US.