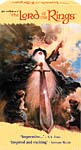 LORD OF THE RINGS, THE by J.R.R. Tolkien (Video & DVD)($14.99)
11.95
GV: 0790762

Gripping animation techniques sketch the wizards, elves, dwarfs and hobbits who inhabit the mythical kingdom, including Frodo the hobbit, Gandalf the wizard, and the evil Sauron. Not recommended for young children. 2 hr 14 min

Available in video or DVD formats. Please specify your preference when ordering. If ordering the DVD, the price will be adjusted upon receipt of your order but will not be reflected on your program-generated receipt.
Video: $11.95 (list: $14.99)
DVD: $15.95 (list: $19.99)