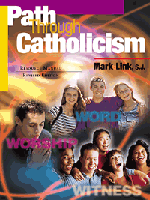 PATH THROUGH CATHOLICISM by Mark Link, SJ ($19.75)+
18.95
RCL: 078290971X (CODE #20289)

This resource manual includes 23 sessions focusing on Word, Worship, and Witness to take students on an exciting journey of the traditions of the Church. Designed to inspire students to understand and live the Catholic faith. Features hotlines for prayer, personal profiles, art, literary and architectural connections. At the end of each session students are involved in Prayer Time with the Lord.

Student texts are also available for $18.95 (list: $19.75). If ordering quantities of both, please order them separately. If ordering the student texts, the price will be adjusted upon receipt of your order but will not be reflected on your program-generated receipt.

This item does not qualify for free shipping. However, normal shipping applies and there is never a surcharge.