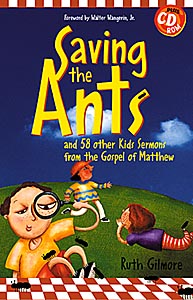 SAVING THE ANTS (Children's Sermons on Matthew) by Ruth Gilmore +
14.95
AUG: 0-8066-4080-4

The Gospel of Mathew really comes alive in these delightful sermons designed for kids 4 to 10 years old. The latest volume in the series of sermons for children is designed for non-Lectionary churches and churches using Year A (Matthew) of the Revised Common Lectionary. Each of the 59 sermons includes suggestions for simple props, effective settings, and lively delivery. A CD-ROM allows users to add personal touches to the sermons.

About the Author: Ruth Gilmore is Director of Children's Ministries at the Lutheran Church of the Good Shepherd in Sacramento, California.

This item does not qualify for free shipping. However, normal shipping applies and there is never a surcharge.