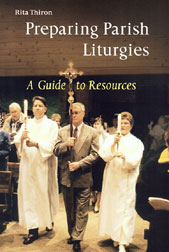 PREPARING PARISH LITURGIES: A Guide to Resources by Rita Ann Thiron ($16.95)*
13.95 11.95 On Sale!
LP: 0-8146-2980-6

Preparing Parish Liturgies provides historical background, brief synopses, and outlines of the Church's major liturgical books and documents summarized in one convenient volume. Through easy to understand language and sound liturgical principles, Preparing Parish Liturgies provides practical tools for preparing parish liturgies that are faithful to the Church's rich tradition and sensitive to the pastoral needs of their assemblies. The outlines, charts, and preparation sheets enable the reader to prepare a liturgy with ease and with confidence and to facilitate communication among presiders, liturgists, musicians, and assemblies.

Rita Thiron is the associate director of the Office of Worship in Grand Blanc, Michigan. She also serves as the executive secretary of the Diocesan Worship Commission, is a member of the Committee for Liturgical Design, a member of the Christian Initiation Steering Committee, and a popular workshop presenter in the diocese and region.

"Steeped in excellent liturgical theology and rooted in outstanding pastoral praxis and aids, this guide is up to date, concise, and better than any Cliff Notes on the liturgical documents. Mrs. Thiron establishes herself as a living encyclopedia of liturgical details and texts. When planning a liturgy, one can only hope he or she stands on 'so firm a foundation!'"
| | |
| --- | --- |
| - | Reverend Bill Wegher, Holy Redeemer Church, Burton, Michigan |
"Preparing Parish Liturgies: A Guide to the Resources is a welcome addition to the bookshelf of anyone involved in the liturgy. For the novice it provides a basic introduction to the many liturgical books and documents essential for understanding the liturgy, as well as solid advice in making decisions when preparing the liturgy. For those with more background it provides a quick reference to the many documents that impact an in depth understanding of liturgical principles. From the chart on the appropriate minister for all the blessings in the Book of Blessings to the worksheets for liturgy preparation, Preparing Parish Liturgies is written in a style that is clear and thorough."
| | |
| --- | --- |
| - | Fran Amer, Director, Office of Worship, Diocese of Youngstown, Ohio |
"This resource will save its users 'hours of searching' by providing both summary and clarification of which liturgical books and documents must be taken into consideration when preparing liturgies for every occasion throughout the liturgical year. The theological and historical comments offered throughout this book are a 'mini-course' in and of themselves, and the planning guides and worksheets offered in the appendix are a wonderful, practical help."
| | |
| --- | --- |
| - | Mary Sellars Malloy, Office of Liturgy, Saginaw, Michigan |