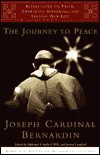 JOURNEY TO PEACE by Joseph Cardinal Bernardin ($17.95)
12.49
RH: 0-385-50101-3

Using the Stations of the Cross as a framework, The Journey to Peace reveals the extraordinary faith, wisdom, and compassion of Joseph Cardinal Bernardin (1928-1996). Through these previously unpublished excerpts from his homilies, Cardinal Bernardin helps readers understand the relevance of Jesus' suffering, death, and resurrection to their own lives, inviting all to join the journey that leads to peace.

Written with eloquent simplicity, elegantly designed, and illustrated with specially commissioned contemporary artwork, The Journey to Peace reaches beyond the Catholic market and appeals to people of all faiths.