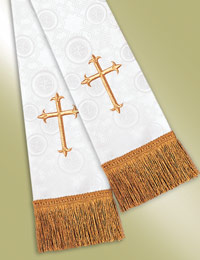 PULPIT STOLES in MILLENOVA (with free shipping) from Murphy
97.95 87.95 On Sale!
MR:

Traditionally styled, these new clergy stoles are tailored in Millenova to coordinate with Murphy's matching seasonal parament sets. They are also trimmed with a 3" antique gold brush fringe and embroidered with matching gold metallic Latin Crosses, are fully lined and innerlined, and measure approximately 90" long, with a tapered back neckline. Available in the following colors: white (shown at left), ivory, red, purple and emerald. Please specify your preference when ordering.

The Murphy Qwick-Ship® Guarantee of Satisfaction means that if you are not satisfied with any Qwick-Ship item you purchase, you may return it (unused and unworn) for exchange or refund within 10 days of purchase.

Custom stoles of this style are available with delivery in 6 to 8 weeks in your choice of colors, etc. beginning at $109.95 (list: $116)(MR924). Please contact us for more information via our toll free number at 877-432-6745.

Free ground shipping offer applies only to orders shipped within the continental US.