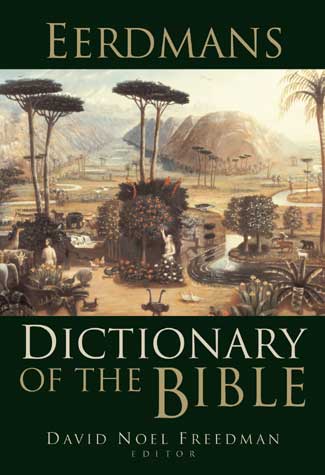 EERDMANS DICTIONARY OF THE BIBLE edited by David Freedman ($45)*
37.95 31.95 On Sale!
EER: 0-8028-2400-5

The Eerdmans Dictionary of the Bible gathers nearly 5,000 alphabetically ordered articles that thoroughly yet clearly explain all the books, persons, places, and significant terms found in the Bible. The Dictionary also explores the background of each biblical book and related writings and discusses cultural, natural, geographical, and literary phenomena—matters that Bible students at all levels may encounter in reading or discussion.

Nearly 600 first-rate Bible authorities have contributed to the Eerdmans Dictionary of the Bible. Intended as a tool for practical Bible use, this illustrated dictionary reflects recent archaeological discoveries and the breadth of current biblical scholarship, including insights from critical analysis of literary, historical, sociological, and other methodological issues. The editorial team has also incorporated articles that explore and interpret important focuses of biblical theology, text and transmission, Near Eastern archaeology, extrabiblical writings, and pertinent ecclesiastical traditions—all of which help make the Eerdmans Dictionary of the Bible the most comprehensive and up-to-date one-volume Bible dictionary on the market today.

Features of the Eerdmans Dictionary of the Bible:
Nearly 5,000 entries explain every book, person, place, significant event, and distinctive term or expression found in the Bible
Written by nearly 600 respected authorities in the field of biblical scholarship
Includes 112 informative charts and photos and a 12-page section of color maps
Supplementary aids include lists of abbreviations, pronunciation guide, transliteration key, and concise bibliographies to guide further research
Entries cover the Deuterocanonicals as well as the Hebrew and New Testament scriptures
Based on the New Revised Standard version of the Bible, with attention given to alternate readings in other major translations
A Sampling of Contributors & Articles
Susan Ackerman, "Ark of the Covenant," "Idol, Idolatry"
Dale C. Allison, Jr., "Sermon on the Mount"
Gary A. Anderson, "Sacrifices and Offerings," "Worship, Israelite"
David E. Aune, "Revelation, Book of," "Rome"
Hector Avalos, "Illness and Health Care"
Alan J. Avery-Peck, "Jews, Judaism"
Randall C. Bailey, "Samuel, Books of"
Samuel E. Balentine, "Prayer"
Bruce C. Birch, "Samuel," "Saul"
Lawrence Boadt, "Proverbs, Book of," "Wisdom, Wisdom Literature"
Karla G. Bohmbach, "Names and Naming"
Oded Borowski, "Agriculture"
Joachim Braun, "Music, Musical Instruments"
William P. Brown, "Creation," "Job, Book of"
John T. Carroll, "Eschatology"
Warren Carter, "Beatitudes," "Lord's Prayer"
Sidnie White Crawford, "Apocalyptic"
James L. Crenshaw, "Psalms, Book of"
Peter T. Daniels, "Writing"
William G. Dever, "Settlement: Archaeology"
John R. Donahue, "Cross," "Crucifixion"
Bart D. Ehrman, "Text of the New Testament"
Tamara Cohn Eskenazi, "Ezra, Book of"
Everett Ferguson, "Apostolic Fathers"
Terence E. Fretheim, "God," "Jonah, Book of"
Beverly Roberts Gaventa, "Mary," "First" and "Second Thessalonians"
Sandra L. Gravett, "Old Testament as Literature"
Joel B. Green, "Luke," "Luke, Gospel of"
Judith M. Gundry-Volf, "Ephesians, Letter to the"
Baruch Halpern, "David"
Daniel J. Harrington, "1-2 Maccabees"
Charles W. Hedrick, "Parables"
Ronald S. Hendel, "Pentateuch," "Adam," "Jacob"
Richard A. Henshaw, "Priesthood, Israelite," "Women in the Israelite Cult"
Theodore Hiebert, "Land," "Poetry"
Robert L. Hohlfelder, "Ships and Sailing"
David C. Hopkins, "Trade, Commerce"
Denise Dombkowski Hopkins, "Humanity"
Donald Juel, "Christ," "Messiah"
Ralph W. Klein, "Ezekiel, Book of"
Gary N. Knoppers, "Chronicler's History," "Chronicles, Books of," "Solomon"
Craig R. Koester, "Gospel of John," "Tabernacle"
Charles R. Krahmalkov, "Phoenicia"
Amy-Jill Levine, "Apocrypha"
Thomas E. Levy, "Archaeology and the Bible"
John M. Lundquist, "Temple"
P. Kyle McCarter, "Abraham"
Steven L. McKenzie, "Judah"
Allan J. McNicol, "Church"
Jodi Magness, "Pottery"
Joel Marcus, "Mark, Gospel of"
Steve Mason, "Pharisees," "Sadducees"
Victor H. Matthews, "Kinship," "Law," "Nomadism, Pastoralism"
Marvin Meyer, "Magic," "Nag Hammadi"
Carol Meyers, "Deborah," "Haggai, Book of"
Piotr Michalowski, "Amorites," "Ebla"
J. Maxwell Miller, "Jerusalem"
Paul Mirecki, "Gnosticism, Gnosis"
James R. Mueller, "Pseudepigrapha"
Roland E. Murphy, "Wisdom of Solomon," "Sirach"
Kathleen S. Nash, "Time"
Ben C. Ollenburger, "Interpretation, Biblical"
Thomas W. Overholt, "Prophet, Prophecy"
Stanley E. Porter, "Chronology of the New Testament"
Mark Allan Powell, "Worship, New Testament"
William H. C. Propp, "Moses"
Anson F. Rainey, "Canaan, Canaanites," "Palestine, Land of"
Stephen Breck Reid, "Daniel, Book of"
John Reumann, "Romans, Letter to the"
Calvin J. Roetzel, "Paul"
Ronald H. Sack, "Babylonia"
E. P. Sanders, "Jesus Christ"
Brian B. Schmidt, "Afterlife, Afterdeath"
Tammi J. Schneider, "Assyria"
William Schniedewind, "History, Historiography"
Donald Senior, "Son of Man"
Gerald T. Sheppard, "Bible"
Ronald A. Simkins, "Honor, Shame," "Nature," "Worldview"
Mark S. Smith, "El"
Lawrence Hull Stookey, "Baptism"
Marvin A. Sweeney, "Jeremiah, Book of"
Ron E. Tappy, "Samaria," "Shechem"
Christopher Tuckett, "Gospel, Gospels," "Synoptic Gospels"
Eugene Ulrich, "Dead Sea Scrolls"
Seung Ai Yang, "Miracles"
Frank J. Yurco, "Egypt"
(Purchase of this book helps you qualify for the free shipping option if it is being offered at the time of your order.)