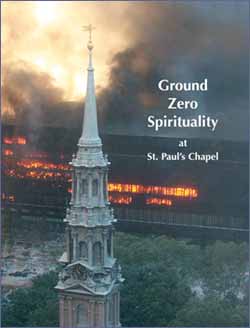 GROUND ZERO SPIRITUALITY AT ST. PAUL'S CHAPEL ($29.95)
27.95
TRIN

St. Paul's Chapel, built in 1766, is the oldest continuosly-used public building in the City of New York. In 1789, George Washington worshiped at St. Paul's after being sworn in as the nation's first President.

On Sept. 11, 2001, the collapse of the Twin Towers covers St. Paul's with smoke, soot and debris. St. Paul's survived without so much as a broken window, protected by giant sycamores in the churchyard which stood in the way of the onslaught.

In Dec. 2001, on the eve of leaving public office, New York City Mayor Rudy Giuliani gave his Farewell Address to the City from the nave of St. Paul's, describing the chapel and its churchyard as "Thrice Hallowed Ground."

The 27-minute program contains footage of the role played by St. Paul's Chapel in the recovery and relief efforts at Ground Zero. The videotape contains interviews with NYC firefighters, other recovery workers, and citizens who volunteered to serve as relief workers at St. Paul's. Also included are news clips from NBC's TODAY Show, ABC's World News Tonight, and highlights from Mayor Giuliani's Farewell Address.