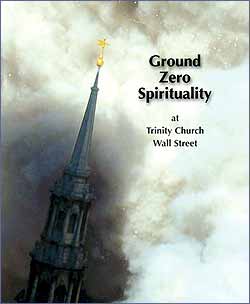 GROUND ZERO SPIRITUALITY AT TRINITY CHURCH WALL STREET ($29.95)
27.95
TRIN2

On the morning of September 11, 2001, staff members of Trinity Church, located at Broadway and Wall Street, witnessed the attacks on the Twin Towers of the World Trade Center from their office windows two blocks away. Listen to their stories of that day - their experiences at Gound Zero, their shock and their fears - and the exploration of their spirituality.

This 70-minute videotape contains Trinity Television footage of the aerial attack on the WTC's South Tower and the building's subsequent collapse.

"I highly recommend this video for use with youth and adult study groups. It is thought-provoking and touches on numerous issues related to this tragic date in history, including:
our anger at God;
our desire to be closer to loved ones;
the need of those about to die to call loved ones and tell them of their love before death;
where was God?;
the effect of putting our priorities in proper order; and,
why this all happened.
I can't recommend this highly enough." -- Deacon Sil Galvan