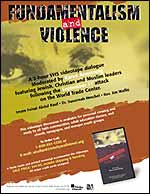 FUNDAMENTALISM AND VIOLENCE with Karen Armstrong ($44.95)
41.95
TTV

A two-hour dialogue featuring Jewish, Christian and Muslim leaders following the attack on the World Trade Center. Why did the attacks happen? Could it happen again? What can be done to prevent more attacks...and what does fundamentalism really signify? In this panel discussion, Karen Armstrong, Susannah Heschel, Jim Wallis and Feisal Abdul Rauf explore the origins of fundamentalism and the incidence of violence and terrorism in all three Abrahamic faith traditions.

Is fundamentalism itself the root cause of violence? According to Armstrong, "Every fundamentalist movement I've studied - in Judaism, Chrisitianity and Islam - is rooted in fear". Feisal Abdul Rauf echoes the sentiment with his comment that "much of what we call fundamentalism today in the Muslim world is more a psychology, a reaction to a perceived attack. I do not see it as a fear of modernity. It is rather a reaction to a militant secularism..."

This video will spark discussion, study and reflection in classes and study groups of all sizes. The panel dialogue challenges your thinking and prompts interactively, encouraged by the study guide and transcript which are included with each video.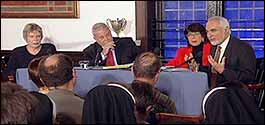 The Panelists:
Karen Armstrong, is the author of THE HISTORY OF GOD and Islam. Her articles have appeared in daily newspapers, Time Magazine and the New Yorker.
Imam Feisal Abdul Rauf is the founder of the Sufi Muslim Association and is dedicated to furthering Islamic art and culture. He is the imam of the al-Farah mosque in New York City and teaches Islam and Sufism at the Center for Relgious Inquiry at St. Bartholomew's Church in New York City. He is also a member of the Board of Trustees of the Islamic Center of NY and the author of several books on Islam including Islam: A Search for Meaning.
Dr. Susannah Heschel is an author of numerous books including Insider/Outsider: American Jews and Multiculturalism. She is also a Dartmouth College professor, where she holds the Eli Black chair in Jewish Studies.
Rev. Jim Wallis is the founder and editor-in-chief of Sojourners Magazine. His columns also appear in the Washington Post, LA Times, MSNBC and Beliefnet.